DOT
Dr. Carroll is NRCME certified and is able to perform DOT physicals on site. We can even get you in and certified the same day that you call! As long as there are availabilities of course. We have all of the equipment on site to make the process as quick and easy as possible. Give us a call if you have any questions and let us get you back out on the road! Exams are quick and shouldn't take longer than 15-20 minutes. Physicals include wellness, vision, hearing, and urine analysis. The doctor will withhold your certification if you do not meet the standards. Another professional will address your disqualifying issue and you may then return to obtain certification. Certification requires a valid driver's license or CDL. Exams cost $70. Payment will be due at the time of service.
What the DOT History Entails
DOT exams begin with a brief history regarding any of the checkboxes you may have marked on your paperwork. The doctor will follow up and ask about each marked box. You must elaborate on each checkbox before the exam progresses . Your doctor then begins the exam by taking your blood pressure and measuring your pulse. You are responsible for reporting any medications, surgeries, or other relevant information. Failure to do so may result in disqualification or further repercussions by FMCSA. Our doctor will ask as much as he can but you are required to report all information.
The Physical
The doctor measures visual acuity using a standard eye chart. You will then differentiate between all 3 colors of a stoplight to ensure no color blindness is present. Afterwards, your doctor will check your urine using a urine cup and urinalysis sticks. Whispering at a distance will test your hearing. Your doctor will then begin the physical exam, checking range of motion in your spine. Your upper and lower extremity reflexes will be tested via reflex hammer. Feeling for hernias and aneurysms will take place in your abdomen. Your doctor will then listen to your heart and lungs. You will be referred to the proper specialist if any abnormality is discovered. After the exam, the doctor will certify you for the proper amount of time.
After the Exam
Your doctor will give you a copy of the medical examination. In addition, you will receive your medical examiners certificate. The examiner keeps the original exam form and paperwork, and copies your certificate. Our doctors keep the records on site.
DOT Forms Online
Feel free to click the link below. This allows you to print the paperwork and fill out the first 2 pages before showing up.  This will cut down on the time you have to spend in the office. However, your doctor must fill out the last 3 pages. We look forward to hearing from you!
Click here for the DOT online paperwork.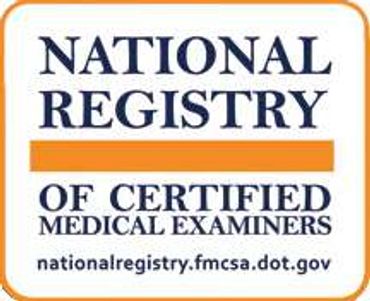 Visit the FMCSE Website for more on rules, regulations, and getting certified for driving.
FMCSA Mission
The mission of the FMCSA Medical Program Division is to promote the safety of America's roadways through the promulgation and implementation of medical regulations, guidelines and policies that ensure commercial motor vehicle drivers engaged in interstate commerce are physically qualified to do so.
Mission statement obtained directly from FMCSA website
Medical exemptions are located on the FMCSA website. Visual, hearing, and diabetic exemptions are available. More information regarding DOT regulations and rules are located on the FMCSA website. Information pertaining to contacting FMCSA, can be found here.
After Your DOT Exam
Send your friends and co-workers! Tell your co-workers about your pleasant experience here at Advanced Chiropractic. Following your exam, you will be certified to drive. Should you be feeling any aches or pains, we are more than happy to schedule you for a chiropractic examination.
Our doctors are always seeing new patients. It's common for someone to present to our clinic seeking a DOT physical. When leaving, the examinee asks if they can see our doctors as well. Our doctors are more than happy to oblige. It is not likely that immediately following the exam that we will have an open slot. Therefore you may take the paperwork home with you and return at a scheduled time. In addition, you may click here for the online paperwork to see the doctors. You may also contact us via phone to schedule an appointment. Call us at 479-452-4433 to schedule today.
Exemptions
Additionally, you may apply for diabetic, visual, or hearing exemptions. In order to do so, visit the FMCSA website for more information. As a courtesy, we have provided the links for your information. 
Follow the link for the diabetic exemption.
Use this link for the visual exemption
Finally, this link for the hearing exemption.
If you are applying for a certificate and do not meet the standards, you may fill one out to obtain eligibility. Your eligibility is not guaranteed from filling out the application. You must wait up to 180 days before the agency decides on your status. Therefore, it is in your best interest to complete the form before applying for certification. Consequently, if you are denied, you will not receive certification. 
Furthermore, exemptions are for interstate commerce and not intended for intrastate travel. FMCSA exemptions is not for relief for intrastate drivers.
Furthermore, call us if you have any questions. We look forward to hearing from you! Have a blessed day!