Passive Therapy
Passive therapies aid in decreasing pain and improving the rate at which your body heals. Below are the various therapies we use to get you back to health. When you're finished reading up about the therapies, explore our pages on massage, exercises, or our wellness care.
Hydrotherapy/ Roller-Traction
Hydrotherapy uses water pressure and heat to massage and loosen the muscles while simultaneously increasing local blood circulation for increased healing. In addition, the hydro-beds are comfortable and relax patients before their adjustments. Temporary itching is a common side-effect because of the increased circulation.
Intersegmental traction utilizes roller bed technology to loosen and release restricted joint segments. We can increase or decrease the pressure applied to your back and even control where in your spine we use the therapy. Our doctors recommend traction or hydrotherapy prior to your visit.
Therapeutic Ultrasound
Therapeutic ultrasound encompasses multiple health benefits. These include soft tissue healing, remodeling damaged tissues, increased local circulation, and decreased inflammation. Therapeutic ultrasound uses a conductive gel and wand that houses a small crystal. High frequency vibrations of the crystal produce a healing effect on soft tissues. This is an ideal therapy for sprain/strain injuries, or chronic cases where scar tissue has built up.
Electrical Stimulation
Electrical Stimulation, also referred to as E-stim, TENS, or EMS, will break up muscle spasm and decrease pain levels. Electrodes deliver a microcurrent to a designated area of the body. Number, pattern, and settings are dependant on the condition you present with. E-Stim transfers an electrical current and stimulates muscular contracture, fatiguing the muscle.
Healing takes place at a faster rate when we combine ultrasound and e-stim. Therefore, combination of the two are most frequently used.
You will feel a tingling sensation that will increase in intensity so long as you are comfortable. In addition, since the current from the electrode acts like a nerve, you may experience involuntary muscle contractions.
More information on electrical stimulation can be found here.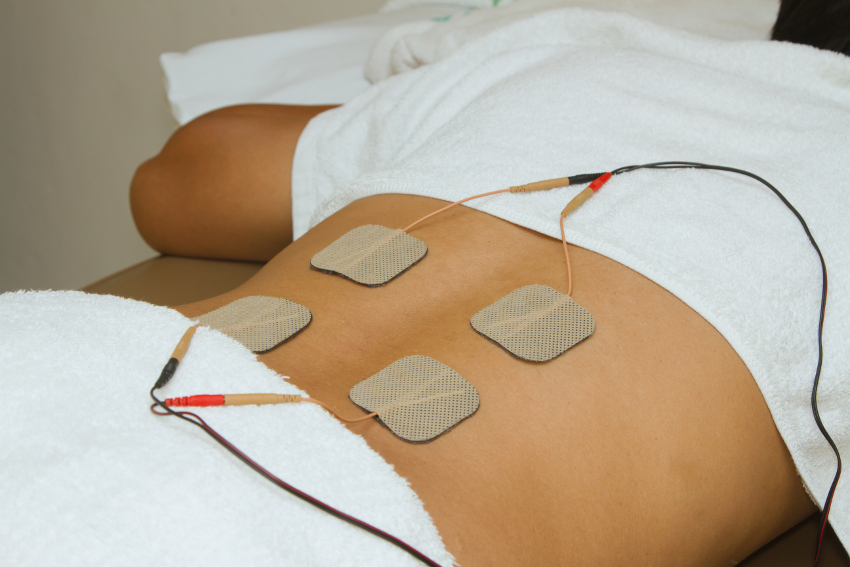 Diathermy
Diathermy warms certain body parts using IR waves. This therapy is capable of penetrating to deeper tissues and helps destroy damaged tissues. In addition, diathermy will help promote clotting, relieve pain, and promote. While undergoing therapy, you will feel a gentle warming sensation. Diathermy is exceptionally good for treating extremities.
Decompression Therapy
Decompression therapy treats patients who are suffering from disc bulges in their neck or low back. Our Elite doctors will set you up on the decompression before therapy. Decompression provides a pulling, similar to an intense stretch. This decompressive forces creates a negative pressure in the spine. This force effectively acts like a vacuum to suck the disc back into place. As a result of the stretching, patients are commonly sore afterwards.

Laser Therapy
We utilize laser therapy as a form of therapy to promote local circulation and improve healing rates of soft tissues. Laser will offer temporary relief from conditions such as osteoarthritis or whiplash.
LET US KNOW IF YOU ARE PREGNANT, HAVE ANY METAL IMPLANTS, PACEMAKERS, OR ANY OTHER MEDICAL DEVICES. ANY OF THESE CAN INTERFERE WITH CARE SO PLEASE LET US KNOW BEFORE WE BEGIN.
If you have any questions or want to make an appointment, give us a call!